Image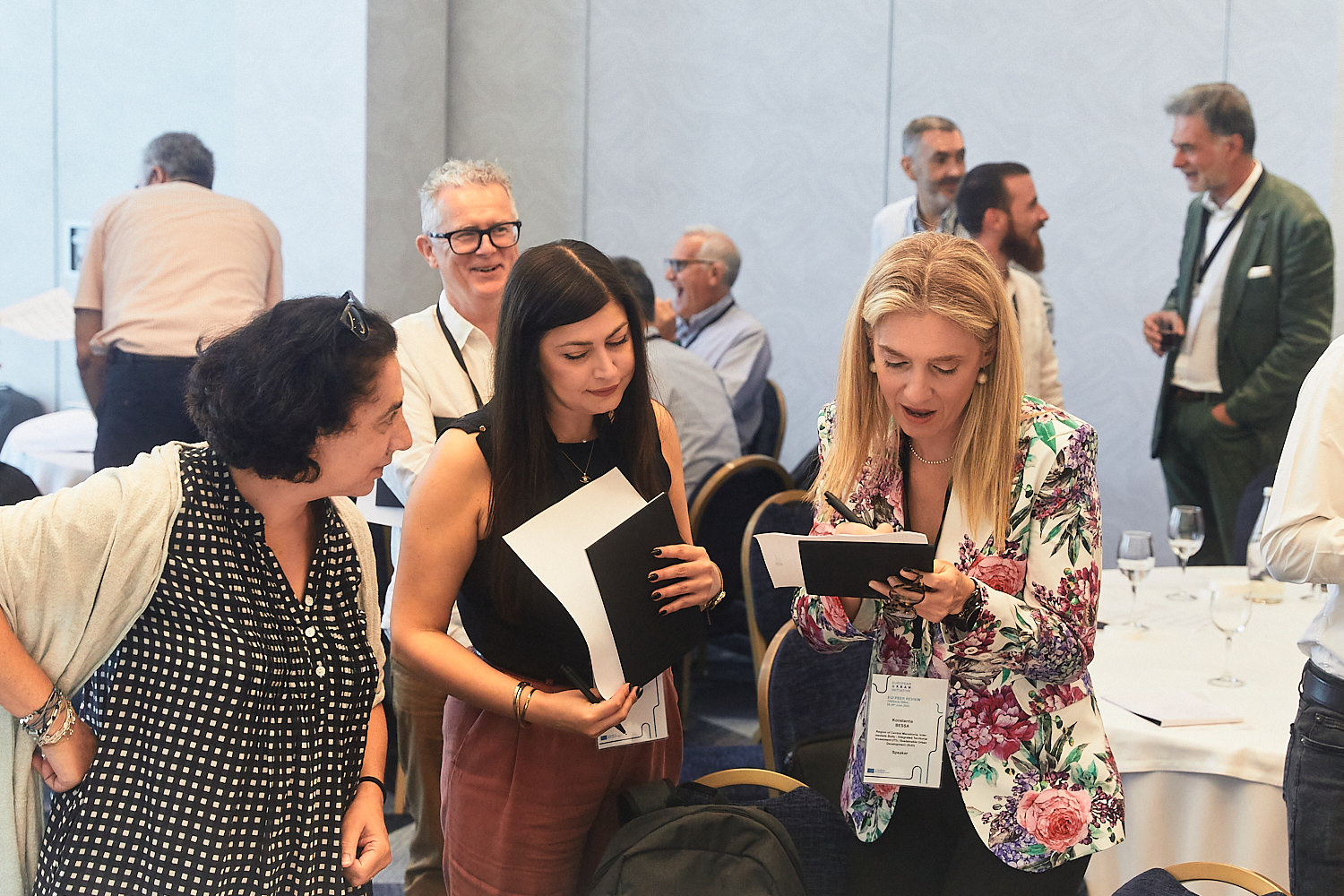 EUI organised its first peer review in Thessaloniki on 28-29 June 2023.

EUI peer reviews are a set of pre-defined activities carried out by a cohort of cities to benchmark their Sustainable Urban Development (SUD) strategies. The aim is to improve the design and implementation of SUD strategies through a process of benchmarking, peer learning and provision of recommendations.
The activity brings together urban authorities undergoing review – they are the cities under review –, and urban authorities providing insights on the challenges faced by the cities under review – they are the peers. A peer review follows a specific fixed methodology and implementation process. The cities under review define three challenges to be addressed according to their specific needs, but the format and the timing of the activity is pre-defined by EUI.
In Thessaloniki, four cities went under review in this first EUI peer review: Beja (PT), Jelgava (LV), Maia (PT) and Thessaloniki (EL).
Interested to participate in the next peer reviews? Take a look at our call for peers !
The peer review included plenaries, site visits in Thessaloniki and three break-out workshops per city under review during which one challenge was addressed. Challenges addressed in this peer review were:
How to engage students of all ages in designing the strategy action plan to enable a better sustainable development?
How to improve mobility solutions that link the rural population with the urban area?
How can urban authorities improve their assessment of the quality of their strategy and improve the acceptance of new urban plans among the population?
How should the urban authority coordinate and collaborate on strategic planning with surrounding rural authorities?
What is the best way to determine the functional area for the SUD strategy?
How to make sure that horizontal climate change objectives are delivered when the SUD strategy deals with sectoral actions and tasks?
How can we integrate the wide range of EU programmes and initiatives potentially available today to support our SUD strategy and projects, and mix them with own resources?
How to ensure Energy and Digital Transitions are embedded in our SUD strategy in such a way that we meet our citizens' needs and promote community empowerment?
What can we learn from good practices on co-creation in order to improve the capacity of the city organisation to develop collaborative processes and methods?
How to link strategies to EU and global agendas and deliver the green transition?
How to deal with heterogeneous priorities for urban and peri-urban areas within the same strategy?
How could the integrated sustainable development strategy be utilized to enhance cooperation between a municipality, civic society, and businesses, in order to promote coherent local and regional action plans for a given sector (e.g., tourism)?