Image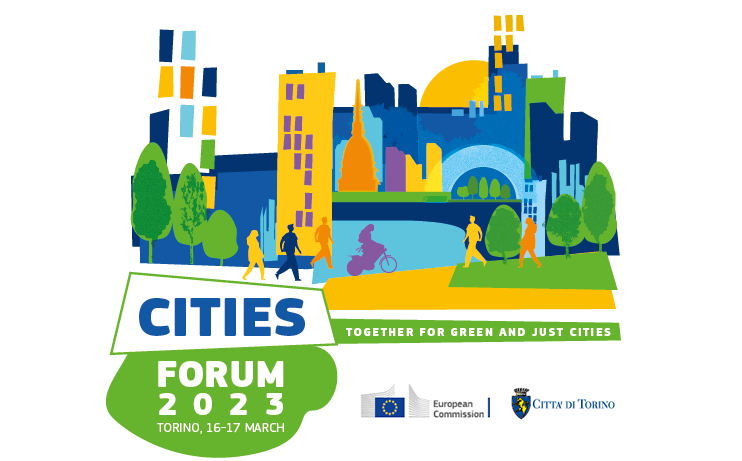 Cities Forum 2023 – Together for green and just cities
The European Commission's Directorate General for Regional and Urban Policy is organising its biennial major event, the CITIES FORUM, on 16-17 March, 2023 in Torino, Italy.
The CITIES FORUM is the place and moment to exchange on the urban dimension of Cohesion Policy, the Urban Agenda for the EU, the role of cities in implementing the European Green Deal, the EU response to the urban dimension of the 2030 Territorial Agenda, as well as highlight the new EU level initiatives developed in order to support cities.
2023 will mark the start of the implementation phase of the EU Cohesion Policy for the 2021-2027 period, against the backdrop of new challenges that come together with the green and digital transition and against the crises that territories have faced in the past years. As we witness the resurgence of many sectors after the pandemic, we are yet facing new demographic and economic challenges linked to the war in Ukraine. In these demanding times, support, dialogue, and cooperation are more important than ever in order to leave no one and no place behind.
The 5th edition of the CITIES FORUM will strive to create a space dedicated to sustainable urban development, in order to exchange about and inform on current urban challenges and available solutions.  In essence, the event will highlight the green transition in cities, while re-affirming the core EU objective of social inclusion. The event also aims at asserting the role of small and medium sized cities, as well as functional territories in order to tackle place-based responses to local challenges.
CITIES FORUM 2023 is a unique opportunity to advance on the recent developments on various EU initiatives and policies offering a more coherent support to cities in implementing sustainable urban development – notably through funding, capacity and knowledge building.
Stakeholders implementing and promoting integrated and sustainable urban development, including cities, regions, umbrella organisations and NGO's, will contribute to the success of this edition of the CITIES FORUM by being speakers and leading workshops. Additionally, high-level political representatives from all levels of government, from all over Europe, will be invited to participate.
Interested in finding out about the future of UIA? Upcoming capacity building opportunities? New themes and topics to address your urban challenges? Stay tuned to receive more information on the full programme!